Submitted by Terry Breese. Thanks Terry.
Lemuel H. Breese was born in Mt. Gilead, Ohio, on June 22, 1845. He was the fourth child of Charles Breese (1811-1885) and Phoebe Bockoven (1818- ). He was the only one of three sons to survive beyond infancy. All three of his sisters, Emeline (b. 1837, married to Ross Mateer), Margaret (b. 1839, married to David Moody) and Harriet (b. 1853, married to Isaac Barger), lived to adulthood. Amos Breese was born in 1841 and died in 1846. Warner Breese was born 1848 and died the following year. Lemuel's parents were both born in New Jersey and moved to Ohio permanently in 1837 or 1838.
In August 1862, Lemuel enlisted in Company D, 96th Ohio Volunteer Infantry (OVI), and was mustered into United States service with his regiment at Camp Delaware near the city of Delaware, Ohio. The 96th OVI was moved by rail to Cincinnati at the end of the month and crossed over to Kentucky. It would not return home for three years.
The 96th OVI participated with distinction in both the first (unsuccessful) and second (successful) Vicksburg campaigns as part of the XIII Corps. During the Arkansas River campaign, the 96th OVI was nearly annihilated at the battle of Grand Coteau November 3 when it and the 60th Indiana served as the rear guard covering the army's retreat. Nearly 200 of the regiment's men were taken prisoner, including Pvt. Breese. Fortunately, Breese was exchanged Christmas Day. In 1864, the 96th OVI participated in General Nathaniel Banks' Red River campaign, leading to the Federal defeat at Sabine Crossroads. After this campaign, the 96th OVI was so depleted by disease and casualties that it was slated to be consolidated with another Ohio regiment. The regiment, however, demurred and, because of its record, was allowed to remain independent as the 96th Battalion, OVI. In 1865, the 96th OVI was involved in the capture of several of the forts guarding the entrance to Mobile Bay and the occupation of that city after the Confederate forces abandoned it. With the war's end, the 96th OVI traveled by steamer to Cincinnati and by rail to Columbus where it was discharged on July 29, 1865.
Lemuel returned to Mt. Gilead and became a butcher. On September 22, 1870, he married Lucinda Caroline Miller and with her had six children. Lucinda's parents were originally from Pennsylvania, but she had been born in Mt. Gilead. Her father, Nehemiah Miller, was described as "among the pioneers of Mt. Gilead" in Lemuel's obituary. Nehemiah Miller's entry in Mt. Gilead's centennial book notes that for a time he was a partner with Lemuel's father, Charles, in a sawmill but was later the sole proprietor. Lucinda's mother was Rachel Kline Straw, daughter of Samuel Straw and Jemima Kline Straw. Lemuel lived in Mt. Gilead the rest of his life. He died March 3, 1909, aged 63 years. Lucinda died three years later. They are buried together in the River Cliff Cemetery in Mt. Gilead. The large plot is marked by a small central obelisk marked on two sides "BREESE," while the remaining sides are marked "MATEER" and "BARGER." Lemuel and Lucinda, along with his two sisters and their husbands are all buried here along with other descendants.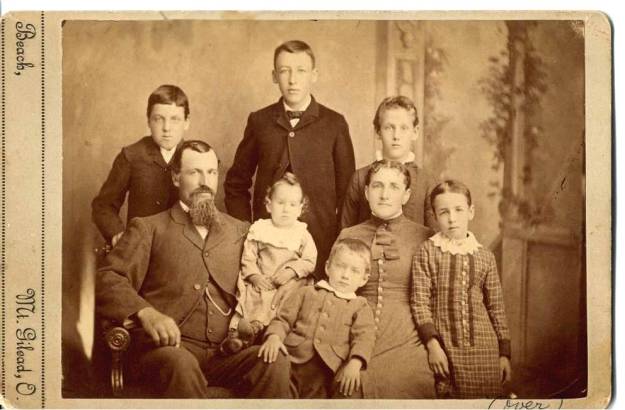 The Family of Lemuel H. Breese – 1886
Back Row L-R: William Edgar, Charles M., Minnie
Front Row L-R: Lemuel H., Lemuel Walter (infant), Albert, Lucinda (Miller), Alice Mabel
Descendants of Lemuel H. Breese and Lucinda (Miller) Breese
1. Charles Miller Breese was born July 30, 1871.

He married Isa Dord Culbertson.

They later settled in Toledo.

They had four children:

1.

Clarence Lemuel Breese, who married Agnes Gary.

Their children were:
1. Donald Breese

2.

Robert Warner Breese

3.

Martha Lou Breese
4. Gary Richard Breese
2. Harold Morris Breese, who married Ruth ________.

Their children were:
1. Charles Breese
2. Harold Breese
3. Ralph V. Breese

3.

Mary Breese, who married Paul Mathias Hively.

Their children were:

1.

Marilyn Hively

2.

Raymond Hively

3.

Harold Hively

4.

Florence Breese, who married Arthur Sweet.

They adopted:
1. James Sweet
2. William Edgar Breese was born June 19, 1875.

He remained in Mt. Gilead and was a butcher like his father.

He usually went by Edgar.

He married Mary Eldergate Reed, who was born in 1871 in Galion, Ohio.

Gertie died in 1945 and Ed in 1971.

They had four children and raised Mabel's two children after her death:
1. James Merwin Breese, who married Marion Cleveland.

Their children were:
1. James Cleveland Breese
2. Susan Reed Breese
3. Mary Ann Breese
2. Lemuel Reed Breese was born February 13, 1911.

He married Helen Annetta Wisham of Philadelphia in 1934.

Helen died in childbirth in 1946.

Lemuel "Mike" wan an electrical engineer for North Electric in Galion, Ohio, until 1965 when he moved to Melbourne, FL, to work for Radiation, Inc., now Harris Corporation.

He retired in 1976 and died in April 1993.

They had three children:
1. Helen Elaine "Judy" Breese was born in 1935.

She married Robert Wayne Johnson in 1956.

They have two sons:
Michael Wayne Johnson was born in 1958.

Michael is not married.
David Lee Johnson was born in 1962.

He married Belinda Helaine Popkin in 1986.

They have two sons, Eric Michael, born in 1994, and Colin Sidney, born in 2000.
2. William Reed Breese was born in 1939.

He married Barbara Ann Kasper in 1961.

They have five children.
3. James Robert Breese was born and died in 1946.
3. Robert Edgar Breese, who married Flora Jean Hildebrand.

They had two children:

1. Ruth Mildred Breese was born September 29, 1940.

She married James Albert Flanagan in 1965 and was divorced from him in 1978.

They had two children:

1. James Darrin Flanagan was born July 9, 1966.

He married Patti Bleifus in 1995.

They have no children.

2. Kevin Scott Flanagan was born January 13, 1970.

He is not married.

2. Mary Jeannette Breese was born October 20, 1942.

She married John Grover Zaichkin (born August 18, 1939) on August 3, 1974.

Her father officiated at the ceremony.

Mary and John had two children:

1.

John Robert Zaichkin was born August 14, 1976.

2.

Lyle Alan Zaichkin was born April 12, 1979.

4. Mildred Caroline Breese, who married Richard Monroe
3. Minnie Breese was born April 28, 1877.

She remained in the area and became a nurse.

She never married.
4. Alice Mabel Breese was born June 22, 1879.

She married R. Harry Crawford and remained in the area.

She died in 1907, after which time their two children were raised by her brother, William Edgar Breese, and his wife.

Their children were:

1.

Walter Crawford
2. Hugh Crawford
5. Albert Warner Breese was born October 1, 1881.

He married Elesta Seif, by whom he had one child.

After her death, he married Martha Ellen Winget Graham, who already had a son from a previous marriage, Kenneth Burr Graham.

Albert was a farmer in 1900.

The only child of Albert and Elesta was:
1. Kenneth Hoyt Breese, who married Iris Smith.

They had three children:

1.

Nancy Jane Breese

2.

Richard Perry Breese
3. Don W. Breese
6. Lemuel Walter Breese was born November 27, 1884.

He always went by "Walter" and is said to have loathed the name "Lemuel."

Even the family entry in the 1900 Census lists him as "E. Walter."

Walter was apprenticed to his brother Edgar to learn the butcher trade.

Not liking it, he later became a rural letter carrier for the U.S. Post Office.

In 1921, he married Bertha Leah Webb, who had been born in Mt. Gilead in 1891.

Her parents, John Henry Webb and Nora Levering Webb, were both Mt. Gilead natives.

Bertha's maternal grandparents, Byram Levering and Leah Ruhl, were among the earliest settlers in the area and operated one of the county's most successful farms.

Walter and Bertha were both at a late age (37 and 30) for first marriage.

They had three children:
1. Maurice Earl Breese was born in 1922.

He started his studies at Ohio State University in 1940, but left in 1942 to enlist in the U.S. Navy where he became a radar instructor.

During his military service, Maurice contracted tuberculosis and was medically discharged.

He recovered and married one of his nurses, Mary Catherine Zalupski.

He returned to OSU and completed his studies, later working as an electronics engineer for Sperry Co. on Long Island and RCA in New Jersey.

He died in 1993.

He and Mary had seven children:
1. Gregory Alan Breese, born in 1953.

He married Cynthia Anne Souders in 1987.

They have two children, David Alan Breese born in 1990 and Adam Christopher Breese born in 1993.
2. Diana Lee Breese, born in 1955.

She married Paul Giannaula in 1978.

They have three children, Rochelle Giannaula born in 1983, Kyle Giannaula born in 1987 and David Anthony Giannaula born in 1991.
3. Kathy Ann Breese, born in 1957.

She married Ernest Leven in 1984.

They have two children, Daniel Leven born in 1988 and Michael Leven born in 1990.

4. Geoffrey Breese, born in 1959, died at 22 hours of age.

5. Karen June Breese, born in 1960.

She married Joseph Wilbert in 1987.

They have two children, Tessa Wilbert born in 1990 and Chelsea Wilbert born in 1993.

Their first child, Pamela Wilbert, died of an umbilical cord accident just prior to birth in 1989.
6. Kevin Earl Breese, born in 1964.

Kevin is not married.
7. Cary James Breese, born in 1966.

He married Alisa Faust in 1993.

They have no children at this time.
2 Dean Edward Breese was born June 27, 1923.

He followed Maurice to OSU in 1941 and, after graduating as a mechanical engineer, was commissioned as an Ensign in the U.S. Navy.

He served in the Pacific aboard the USS Millicoma (AO-73), a fleet oiler.

He married Dorothy Elaine Lohr of Steubenville in 1944, just before going overseas.

After his discharge as a Lieutenant jg, Dean returned to Ohio, working for the Goodyear Company in Akron.

He later moved to Columbus, where he worked first at Battelle Memorial Institute and later for the Nippert Company.

He retired as Vice President for Sales in 1984 and worked as a consultant until he joined Schuler Co., where he was later President.

He retired again from Schuler in 1996.

Dorothy died in May 1993 and Dean in January 1998.

Dean and Dorothy had four children:
1 Susan Kay Breese, born in 1946.

She married Michael Earl Thomas in 1968 and with him adopted Dana Lynn Thomas, born in 1973.

Susan was later married to Stuart Manville.
2 Ronald Dean Breese, born in 1948.

Ron has not married.
3 Terry Alan Breese, born in 1954.

He married Claudia Joan Faldowski in 1977.

They have two children, Whitney Alexandra Breese, born in 1986, and Eric Mackenzie Breese, born in 1989.
4. Linda Gail Breese, born in 1956.

She was married to William Irwin in 1981.

They had no children.

Linda died in 1994.
3. Hilda Jean Breese was born in 1925 and attended Ohio State University.

She graduated in 1948 with a Bachelor of Science in accounting.

She belonged to several honor societies and Theta Upsilon.

In November 1948, she married Scott Miles Smith, also an OSU graduate.

Hilda died in 1990 from a blood clot.

They had four children:
1. Kurt Frederick Smith, born in 1953.

Kurt died in 1968.
2. Marcia Ann Smith, born in 1954.

Marcia married Rodney William Smith in 2000.
3. Lynne Elizabeth Smith, born in 1956.

Lynne married Mark Douglas McDonald in 1978.

Lynne and Mark have 2 girls, Michele Renee McDonald, born in 1987 and Jennifer Lynne McDonald, born in 1989.

Lynn died in January 2001
4. Craig Richard Smith, born in 1958.

Craig has not married.